Laboratorio de Ecología Evolutiva y de la Conservación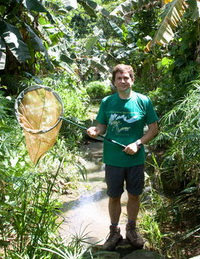 Adolfo Cordero, Director del laboratorio. En un arroyo, hábitat de la Protoneura capillaris en Cuba. Mayo de 2007.
En la actualidad la principal de nuestras líneas de investigación se centra en la Selección sexual, para cuyo estudio e investigación usamos Odonatos como organismos modelo. Otros campos de interés en nuestras actividades de investigación son la evolución del polimorfismo del color de las hembras, el control biológico de plagas y la ecología de la conservación. Estamos actualmente involucrados en muchos proyectos que emplean Odonatos como organismos modelo, y simultáneamente, nos encargamos de las enseñanzas universitarias de Ecología y Biología de la Conservación para los estudiantes de forestales.
Colaboramos desde hace varios años, sobre diversos temas relacionados con la selección sexual de los odonatos, con Alex Córdoba (UNAM, México) y con Carlo Utzeri (University of Rome, Italy).
También colaboramos con Eric Svensson y Bengt Hanson (University of Lund, Sweden) en el estudio del polimorfismo del color de las hembras en Ischnura elegans e I. graellsii.
Además, colaboramos con David Thompson (University of Liverpool, UK) y Phillip C. Watts (University of Liverpool, UK/University of Oulu, Finland) en la genética de poblaciones y la conservación de Coenagrion mercuriale, Macromia splendens, Macromia splendens, Macromia splendens y Oxygastra curtisii.
Para estudiar el comportamiento reproductivo de dos odonatos endémicos cubanos (Hypotestes, Microneura/Protoneuridae), colaboramos con Adrián Trapero y Yusdiel Torres, ambos de la University of Oriente, Santiago de Cuba (Cuba).
En el año 2008 hemos trabajado en la selva peruana para estudiar el comportamiento de Polythore, con Chris Beatty (actualmente en Santa Clara Univ., California), Joachim Hoffmann (ALAUDA, Germany), Tom Sherratt (University of Carleton, Canada) y Hans Van Gossum (University of Antwerp, Belgium).
Adolfo Cordero en el Parque Nacional Pacaya-Samiria, en la selva amazónica de Perú. Junio de 2008.
Durante muchos años, hemos trabajado en la ecología de la población y en el estudio del control biológico del gorgojo del Eucalyptus, Gonipterus scutellatus.
También hemos trabajado intensamente en la ecología de la conservación y la genética del galápago europeo, Emys orbicularis.
Más recientemente hemos participado en el estudio de tendencias poblacionales y en la conservación de los anfibios que habitan en pequeñas islas frente a la costa en el Parque Nacional de las Islas Atlánticas de Galicia.
Nuestro principal tema de investigación es la ecología evolutiva de las damiselas. Hemos trabajado intensamente con Ischnuraand Calopteryx. De especial mención es la confirmación del primer caso de partenogénesis en los odonatos, en poblaciones de las Azores de Ischnura hastata.
Otras líneas de investigación se centran en el estudio de las interacciones mútuas entre plantas y animales, la ecología reproductiva de plantas y las invasiones ecológicas.
Publicaciones seleccionadas:
Investigadores del laboratorio